Jette JACOBSON
Born: 1873, Lithuania
Marriage (1): Joseph Jossel GOLDBERG before 1894 in Russia
Died: 23 Jun 1935, De Aar, Cape Province, South Africa aged 62
Buried: 24 Jun 1935, De Aar Cemetery, Northern Cape, South Africa

Cause of her death was Haemorhage of the brain.

Other names for Jette were Ita b. Chaim and Yetta.

Noted events in her life were:
• Immigrated: Shipping Manifest, 6 Oct 1920, Cape Town, Western Cape, South Africa.
Length in Shelter-26 days
Ship's Name-Dunluce Castle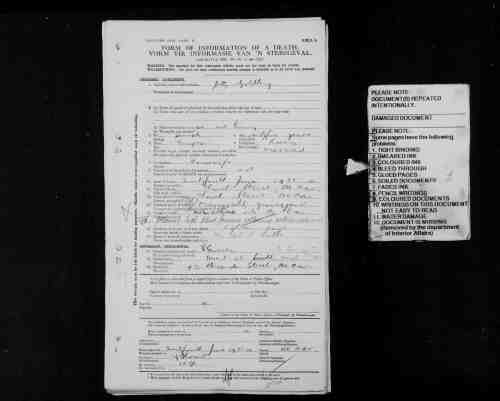 • Death Information: National Archives of South Africa.
Jette married Joseph Jossel GOLDBERG, son of Efraim GOLDBERG and Rochel, before 1894 in Russia. (Joseph Jossel GOLDBERG was born on 14 Feb 1871 in Sabile, Talsi, Kurzeme, Latvia, died on 6 Dec 1953 in Cape Town, Western Cape, South Africa and was buried in Pinelands 1 Cemetery, Cape Town.). The cause of his death was Hypertension.